Here we are again on the Isle of Skye, where our Island Dream memories took us a couple of weeks ago. This time let's look at a couple of less visited places and my favourites.
We already took a sneak preview at the Clan Donald Centre from Finlaggan. So many reasons to visit: the charming ruin of Armadale Castle, the stunning gardens, the views across the sound of Sleat, the tea room radiating an ambience of a great hall, the wonderful shop and the place where I usually get 'lost' – the museum full of facts and flair of a long-gone age.
Only a stone throw away Gaelic culture is very much alive – Sabhal Mor Ostaig, the Gaelic college, offers a wide range of short, distance and university courses. What kept me away for so long …?!
The Sleat peninsula in the gentle southern wing of Skye is home to the Macdonalds. Flora Macdonald, the great Highland Heroine during Jacobite times, got married at Armadale. However, she spent most of her live in the northern part of Skye and is buried at Kilmuir Cemetery from which she can see the Outer Hebrides. Close by is another one of my favourites – the Skye Museum of Island Life. Step back in time to an old Highland village for a memorable experience and a true insight into island life a 100 and more years ago.
Last but not least, another place I love visiting is the Aros Centre outside Portree, the main town on Skye. Aros isn't really a visitor attraction.  As per its website, it is a community cultural centre offering exhibitions, cinema, live music, comedy, dance, drama, theatre, galleries and workshops. You can also pop in to the restaurant or gift shop – ideal for stocking up on birthday presents. Amongst other things you can find a good selection of books and CDs (yes, I'm old fashioned) of Runrig, Cliar, Arthur Cormack … to mention but a few musicians hailing from Skye.
You will notice that I've chosen places with a certain level of infrastructure, which can easily accommodate visitors and indeed will struggle without visitors. Approach the Skye Museum of Island Life from Uig and you have less of a drive on the winding single-track road. Remember to plan ahead when you travel.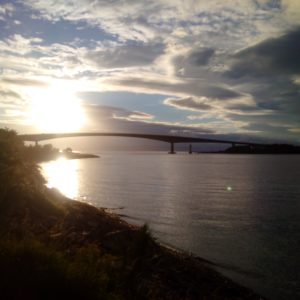 All being well, tomorrow we'll travel to a double island off the coast of Skye … or is it an island now that Skye is connected to the Scottish Mainland by a bridge?
You know by now RavingScotland is good to go and ready to go for private walking tours in Glasgow. Group sizes depend on current government guidance. https://www.gov.scot/coronavirus-covid-19/
Get in touch – socially distanced – E-mail me at viola@ravingscotland.co.uk and let's get talking.