Another way to make a journey sustainable is to stay a little longer – travel deeper. So let's stay on the road to the Isles, around Mallaig. Whilst we were travelling virtually yesterday, one of my colleagues was out whale and wildlife watching with Arisaig Marines. They are open and had a great day.
Another option to cruise the Scottish west coast and islands is with Majestic Lines. Their four small cruise ships have been designed to access remote and sheltered anchorages that larger boats find inaccessible. Sailing from April to October they make the most of the longer summer days with opportunities for walks ashore and wildlife spotting or just relaxing onboard. Definitely on my bucket list.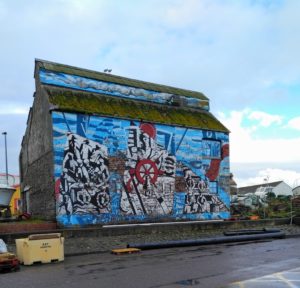 Mallaig itself also deserve a second look. The small fishing port snuggles around the bay and has charming shops. My favourite one is done narrow Haggard Alley. Here a special railway line ends. Stay a little longer …
But before I go on holiday, I want to make your holiday when you come to Glasgow. Remember RavingScotland is good to go and ready to go for private walking tours in Glasgow. Group sizes depend on current government guidance. https://www.gov.scot/coronavirus-covid-19/
Get in touch – socially distanced – E-mail me at viola@ravingscotland.co.uk and let's get talking.