Visible from the mainland enroute to the Mallaig Ferry terminal, Muck, Eigg, Rum and Canna lie southwest of the Isle of Skye. Each with their own individual character, collectively they are known as the small isles. The CalMac ferry makes round-trips to the four little gems, which might be inviting to visitors. In fact, last year there were instances of islanders not being able to get onto the ferry for essential journeys, because coach companies had used up ferry capacity to send their guests on mini day cruises. To avoid a repeat from 1 July this year the route is bookable. Due to the social distancing measures the ferry's capacity is reduced from 190 to 40 passengers.
As everywhere for now, plan ahead before you travel.  Islanders on Eigg, for instance,  have taken the decision to close all self-catering, hostel and guest house accommodation, as well as its cafe and restaurant, until August 31 to discourage visits from overnight tourists, day trippers, campers, kayakers and sailors. This is in an effort to protect vulnerable community members. Read more here https://www.heraldscotland.com/news/18592009.island-closed-visitors-tourism-sector-reopens/
We can still travel virtually. I don't have any photographs of the small isles, because I haven't visited them myself. Every time I see their distinctive shapes in the glittering ocean I promise myself to go. So let's have a wee preview.
Muck, privately owned, offers craft courses.
Eigg, acquired by the community in a buyout in 1997, is famous for its singing sands. With its Earth Connection Eco Courses, Eigg Organic holiday gardening courses and Eigg Well-being is sounds like an island for me … next year.
Rum, the largest of the 4 small islands, is owned by Scottish Natural Heritage (SHN). It was known as Rhum to the seemingly prudent Victorians in the 1800s and boasts 4 peaks over 2,500 ft / 762 metres and plenty of deer. Here is the island's visitor charter.
Canna is owned by  the National Trust for Scotland and usually NTS rangers conduct walks. Canna House with its walled gardens is usually also open to the public. At the right time of year the cute puffins pose for pictures. Some 20,000 other seabirds keep them company. Canna is also closed to visitors at the moment, but we can still donate to the NTS here.
My first close encounter with puffins was in Shetland. Here the photographic proof.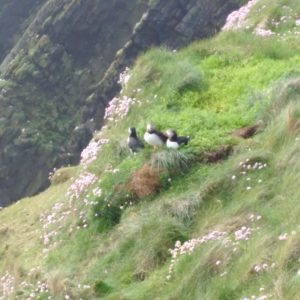 I promised to bring you the voices from the island and highlands. This following survey by the Scottish Tourism Alliance (STA) gives us some insight.
Impact of tourism on communities 
In July we have tried to establish how Scots feel about the prospect of the re-opening of tourism and the potential influx of visitors to their communities.
Across Scotland as a whole, 37% are comfortable and ready to welcome back visitors.  However, a further 30% have more concerns and would only be comfortable with visitors from Scotland.  And 16% would wish to restrict access to more local visitors, while 18% would prefer no visitors to their areas at the moment.
But the concerns are much greater in rural areas north and west of the central belt – almost four in ten would either prefer no visitors or only a small number of more local visitors (38%).
And they are even more of an issue in our island communities where only 10% are comfortable with tourists returning, and 45% would prefer either none this year or very small numbers of local visitors.
Come back tomorrow when we return – virtually – to the Isle of Skye – the perfect place to immerse ourselves in the Gaelic culture.
Meanwhile, remember RavingScotland is good to go and ready to go for private walking tours in Glasgow. Group sizes depend on current government guidance. https://www.gov.scot/coronavirus-covid-19/
Get in touch – socially distanced – E-mail me at viola@ravingscotland.co.uk and let's get talking.
Hot off the press: Today my new face shields arrived, so those of you who want to read my lips can do so.