What is a double island? In a nutshell, it is an island, which is reached by two or more ferries. Often we have a 'mainland' island and outlying islands. They acquired the new-to-me name 'double island'. Still travelling north, today we reach the Isle of Mull, which has a couple of great examples for 'double islands': Iona, Staffa, Ulva and Gometra, the Treshnish Isles – to name but a few.
How do the residents of these remote double islands feel about tourism in the current climate? I read an insightful article by Sandra Dick about Ulva in yesterday's Sunday Herald. Here the link https://www.heraldscotland.com/news/18591181.ulva-island-shut-away-world/
Basically, the 6 Ulva residents run their own private ferry service, which – due to social distancing requirements – will not be open to visitors. The islanders are saying 'People can come under their own steam, but they have to be prepared that nothing will be open and certain that they will get back. … We are not saying 'don't come' – just that we can't bring you here.'  That will be quite a change from 7,000 visitors to the tiny island last year, several hundred a day at peak season.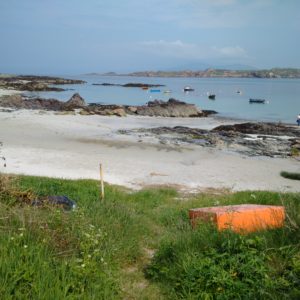 Every story has at least two sides. The pandemic made us focus on human survival. As time marches on voices for economic survival are becoming louder. In the same paper I read about a coach company, which can't secure enough spaces for their regular tours on the ferries. With that it is not viable for them to keep this part of their business running. Luckily they have other operations, amongst them the red open-top city sightseeing buses in Glasgow, where I started guiding some 20 years ago. Whilst they usually pass my window every 15 minutes,  they are back with a 60-min service at the moment. Check for details here.
So if we can't get close to the wildlife of Mull – here a link to the wildlife camera accessible the comfort of our own homes.
Tomorrow we travel – virtually – to the small isles – four wee gems with their own character.
Meanwhile, remember RavingScotland is good to go and ready to go for private walking tours in Glasgow. Group sizes depend on current government guidance. https://www.gov.scot/coronavirus-covid-19/
Get in touch – socially distanced – E-mail me at viola@ravingscotland.co.uk and let's get talking.
… and if you don't fancy walking, the big, red, open-top Glasgow City Sightseeing Bus is waiting for you.