Welcome to mighty Finlaggan. Meet the Lords of the Isles and their aes dana – people of the gifts of law, medicine, poetry, history, music, stone carving … . Feel their sense of community, listen to the legends and songs. If I could time travel, this would be the time and the place I'd go. I first saw Finlaggan, the small ruins on the tiny islands out in the loch, in the early 1990s. I couldn't get any closer then, but thanks to the Finlaggan Trust we can now step onto Eilean Mòr and back into time.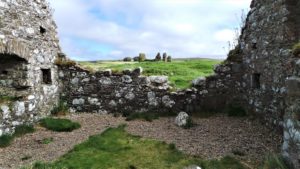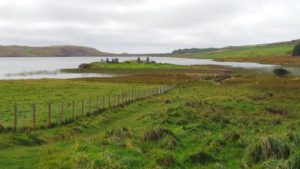 Finlaggan is also referred to as the cradle of Clan Donald and if you can't get to Islay, you will get a really good feel for what life might have been like there at the Clan Donald Centre in Armadale on the Isle of Skye.
The second time I came to Islay it was for the Celtic Crosses – yes, we do have them in Scotland, too. If you followed our earlier island dream you know about Iona Abbey (Historic Environment Scotland). I could spend hours in the new-ish exhibition in the former Abbey Infirmary (hospital), which now looks after some impressive High Crosses. Back to Islay's south coast, where we find the Kildalton Cross next to the ruins of an ancient church with West Highland graveslabs – behold the warriors of the isles.
| | | |
| --- | --- | --- |
| Kildalton Cross, Islay | West Highland Graveslap in Kildalton Church, Islay | Kildalton Cross Islay |
Like every Hebridean Island Islay has its fair share of mesmerising colour, dramatic waves, charming villages, open spaces and … secret gardens for Tom, Dick and Harry. Port Charlotte's Museum of Islay Life is equally lovingly kept.
Here some more Islay impressions.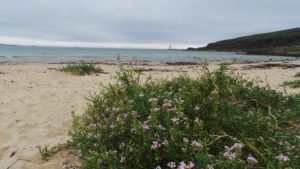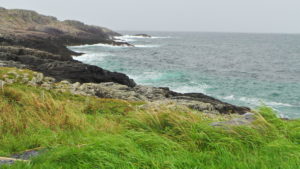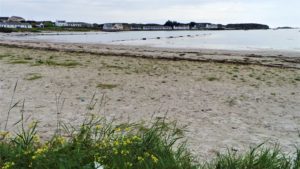 Before you go take care to check:
Meanwhile, remember RavingScotland is good to go and ready to go for private walking tours in Glasgow. Group sizes depend on current government guidance. https://www.gov.scot/coronavirus-covid-19/
We might even call into the Islay Inn when it opens again. We don't have to go far to enjoy some island spirits.
Get in touch – socially distanced – E-mail me at viola@ravingscotland.co.uk and let's get talking.