Perfect timing – this morning I read that pre-orders are now open for the historic, inaugural release of the Isle of Raasay Single Malt Scotch Whisky – here the link. Cheeky chappies describe their distillery as the first legal whisky distillery on the island. Not counting the Skye Bridge, Raasay is a double island (you need two ferries to get there) off the coast of Skye. I guess you could see the excise man (tax collector) coming.
We were lucky to be invited to Raasay three years ago. By friends we had never managed to visit when they lived in Edinburgh … we must have known they would change scenery, and not half.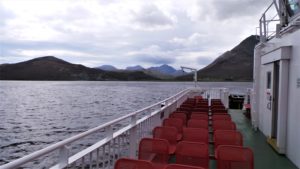 Gordon is an artist and Christa a tourist guide, amongst many other things. You can find them in Raasay Gallery, which has just re-opened, although the guest room remains closed until further notice. I'm often asked: from what to you live in the highlands and islands? I site Christa and Gordon as examples – you have many legs to stand on and a great community around you helps – as well as determination. Raasay is also the home of the impossible road or Calum's (perfect) Road, which inspired a book and a tune.
The tiny CalMac ferry between Sconser and Raasay is on a reduced timetable. It operates on a turn-up-and-go service, so be mindful of the community when travelling and remember contactless payment.
My island dream continues and includes a Hogmanay (Scottish New Year) in Raasay. Who knows?!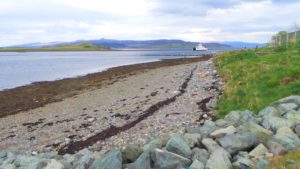 Meanwhile, RavingScotland is good to go and ready to go for private walking tours in Glasgow. Group sizes depend on current government guidance. https://www.gov.scot/coronavirus-covid-19/
Get in touch – socially distanced – E-mail me at viola@ravingscotland.co.uk and let's get talking.