Sunday – time for reflection. I had planned to take you to Harris today, but remembered my unsuccessful attempt to buy a Sunday newspaper there on a Sunday, years ago. It is good to reflect. Let's pause our virtual journey of hopping from one Scottish island to another. Let's breathe.
We started this journey 12 days ago with the news that tourism is gradually beginning to open up. There hadn't been a death from COVID-19 for one whole week. Today no new COVID-19 death have been recorded in Scotland for the ninth day in a row. I'd so love to mark the day of the last death into my calendar … .
So far the message is clear: staycation, plan ahead, check what's open and consider the local communities. Yes, all of us working in tourism want and need to start working and earning again, but none of us is in it for a quick gain at a big cost. We still want to earn a living next year and the year thereafter – sustainability. The Sunday Herald newspaper features a  UK government sponsored article focussing on livelihoods of business owners and their employees – have a look here.
Back to our cover photo for today. I called it 'tin whistle sunset'. It shows the same dear friend with whom I ventured to Arran on our Easter cycling holiday. Here she is in the North of Skye, a few steps away from our tent, serenading the sunset to a chorus of bleating sheep – a wonderful moment to reflect on. I took the photo at a time when you had to hand over your roll of film to get it developed and return a few days later to collect your prints. How nice it was to get handed a pack of memories and how magical it was to discover this particular photograph.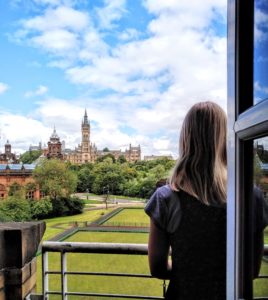 Be careful what you wish for. At the time I wished I could travel through Scotland for a living. What happens when you turn a hobby, your passion into a profession? Yes, you have lots of fun and pinch-me moments. But what do you do to relax? What about the good old work-life balance? Take me away … . I'm now a tourist guide (yes it is a profession) and my friend an archaeologist. Did we go too far, too soon, too high in the wake of the Waterboys and inspired by Icarus – water and fire. The current global situation certainly makes you reflect. Less is more. Let's return to what we hold dear.
So, let's pause our Island Dream 2020 and set off again in a week or so. An Orkney storyteller and a Shetland poet are waiting for us.
Meanwhile, RavingScotland is good to go and ready to go for private walking tours in Glasgow. Group sizes depend on current government guidance. https://www.gov.scot/coronavirus-covid-19/
Get in touch – socially distanced – E-mail me at viola@ravingscotland.co.uk and let's get talking.