One year ago today we woke to a cool morning in Fort William at the foot of Ben Nevis, the highest mountain in Scotland and the UK. What amazes me is that the Ben reaches its height by starting at sea level – no cheating! Today we will reach our first Scottish island – Skye.
Yet, hold your horses, enroute to the CalMac ferry we stop at Glenfinnan. We are the only people there, not even the visitor centre is open. This is the reward for getting up early on holiday. Glenfinnan pleases history buffs and film lovers alike. Have a look at the photographs.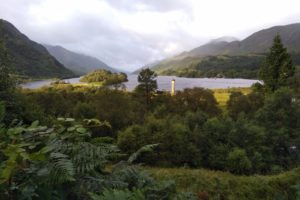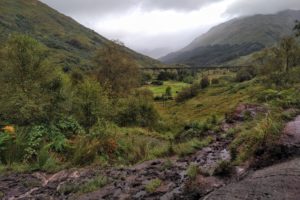 The road to the isles continues pasts brooding lochs with tiny wooded islands onto golden sands until it arrives at the ferry port of Mallaig. Skye is within sight.
A short crossing and we arrive on Eilean a Cheo to a misty welcome. We are not the only ones. The roads are busy and just as well we have a lunch booking at Seumas Bar at the Sligachan Hotel  . Time for our first short walk into the Scottish wilderness and time for a wee dram of whisky afterwards. We are spoilt for choice.
Onwards to the Trotternish peninsula with its dramatic rock formations and even more film connections. Afternoon tea in Portree, the main town of the island, and back south for our first island night. There is so much more to see and the list of places to return to gets longer. The bar is well stocked with local beer (Red and Black Cuillins, Skye Ale and many more) and whisky (Talisker) and even Skye Gin. A beautiful sunset and the dream continues …