VisitScotland Expo – Scotland's premier business to business travel trade event – came to the Glasgow's SEC this April 2019. The event was completely sold out and over 10,000 appointments were conducted over the 2 days at the exhibition.
I popped in towards the end of the show to meet the participants of the fam trip for the 'Inclusive Tour of Central Scotland' I was appointed to guide. I was delighted that VisitScotland had asked me for the second year to help with showing off and exploring Scotland as an accessible place to visit.
Before the start of the fam trip I made a quick visit to the stand of the Scottish Tourist Guides Association (STGA) and chatted to Dot Wylie (Booking Secretary). Dot told me she had had an enquiry from a tour operator, who was looking to develop tours for wheelchair users in Scotland. It turns out the very person would join us for the fam trip.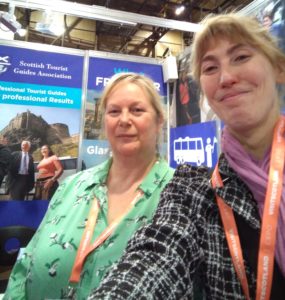 Elise Compagnon of VisitScotland had worked tirelessly to put a varied and venue-packed itinerary together for our tour operators to savour. We had two eager and interested tour operators:
WeTravel2 based in Belgium
HandiTours from Denmark
In just 3 days we would visit the Clydeside Distillery, Kelvingrove Museum and Art Gallery, the former Royal Yacht Britannia, the Royal Botanic Gardens  Edinburgh, Stirling Castle, the Scotch Whisky Experience and have a cruise on Loch Katrine with the SS Sir Walter Scott. Several hotels offered show rounds and we had much to talk about over delicious breakfasts, dinners and lunches.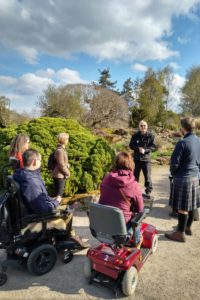 I was particularly impressed by two places we visited: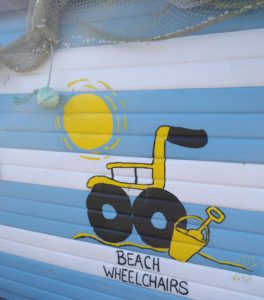 During the tour we saw that Scotland is becoming more and more accessible and that there is still room for improvement. We found that some hotel rooms had good facilities, but were just too small to move around in with a wheelchair. I was impressed by the meticulous attention our tour operators took to check the width of doors and heights of beds and bathroom installations.
Over and over we came back to information – information is key. Knowing what to expect empowers visitors to make the right choices. As a tourist guide specialising in 'Tourism for All' I hope to help in providing this information and this comfort before and during the tour. It is part of our STGA Training and continuous professional development to adapt our services and commentaries to our visitors. Everyone is different and everyone has the right to enjoy their holiday. Information is key. Contact me and let's start talking about your next holiday in Scotland.