We have reached the northernmost destination of our journey and Scotland's northernmost island group – Shetland. The Northlink Ferry will wait for us at Lerwick Harbour, whilst we explore the southern part of the of Shetland's mainland down the Sumburgh Head. Instantly we feel a hint of Scandinavia – the houses, the language, the history, fish processing, oil industry, beautiful knitting pattern, the wildlife, the ever present sea … .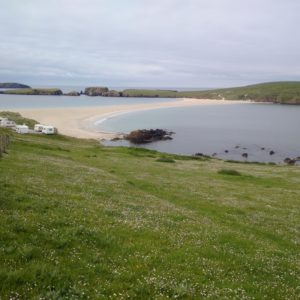 It is Sunday and we start with a walk along sandy St. Ninian's beach and hear about an ancient treasure found by a schoolboy. The road straddles the coasts of the Atlantic and the North Sea. At Sumburgh Head both meet and wash the dramatic cliffs, home to guillemots and puffins. This is the time to see them and we are lucky. Have a peek yourself at the Puffin Cam.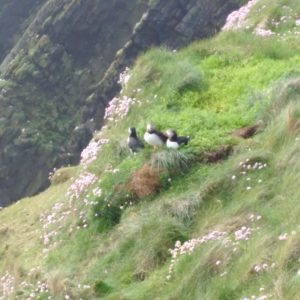 After lunch we visit Jarlshof (HES) with its many layers of history. It is a wonderful summary of what we've seen over the last couple of days … and more: a distinct bit of Viking history awaits us.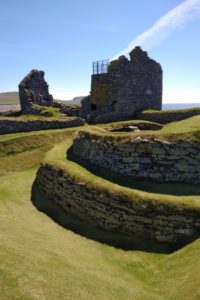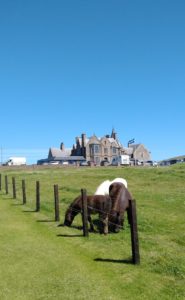 Once more we cross the runway of Sumburgh Airport and N60 (60 degrees North). Again and again we stop to take in the lanscape. Once last time we head to the Atlantic coast and Scalloway with its castle ruin and fascinating museum. Back in Lerwick a quiet walk to the typical Lodberrie Houses, Fort Charlotte or a visit to Shetland Museum in Lerwick.
A lot of fresh air today and the overnight sailing to Aberdeen is a fitting closure to our island dream. One last time the sun sets over the sea.
Yet, two more days of our tour and more adventures to come … See you back here tomorrow.