A magic number – a magic day. Today we will enter the Neolithic Heart of Orkney – a UNESCO World Heritage site. On our way to the Northlink Ferry we make a short stop at John O'Groats. From here a small ferry takes passengers to the southern tip of the Orkney Isles, but we want to take our coach, so onward we go to Thurso.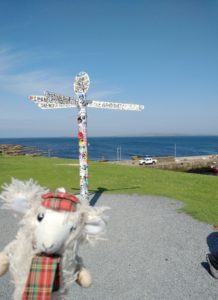 Lunch on the ferry, but hold on there's so much to see. Was this an orca? We pass the red cliffs of Hoy and reach Stromness – welcome to the island of time. Wherever you step there is history, but what strikes us first is how green it is here. Orkney literally had to feed an army in the 20th century and agriculture had to deliver. Today the landscape and skyscape (a word I learned from an Orkney friend) – the greens and blues – inspire jewellery designers and artists.
Skara Brae – we have timed our arrival to avoid the many cruise ship guests who want to see this amazing place. A haunting film introduces us to this best preserved Neolithic village in Europe, discovered after a dramatic storm only some 170 years ago. Historic Environment Scotland (HES) allows us to dive right into one of the village's houses – well a replica house bringing stone age times to live. Then it is on to the real site, which is more than 5,000 years old – imagine.  Skaill House overlooks the archaeological site and is also open to visitors.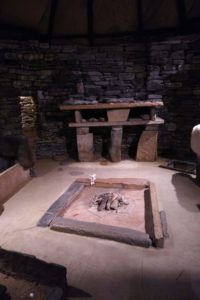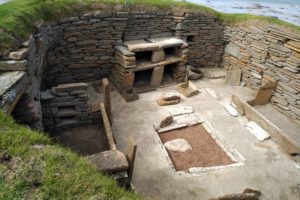 Long before Skara Brae was discovered we knew of the stunning stone circles of Orkney. Now our journey takes us to the Ring of Brodgar, the largest Stone Circle in Scotland and the Stones of Stenness, even older than their larger brother. Inbetween them archaeologists are hard at work to uncover the secrets of the Ness of Brodgar, whilst the seals watch on from Stenness Loch.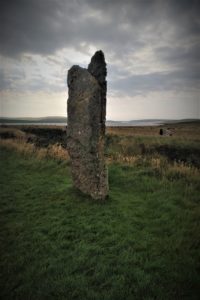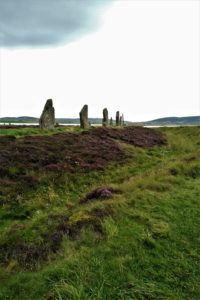 Now we travel through mainland to Kirkwall, the main town of the Orkney Isles. The red sandstone Kirkwall Cathedral is closed and the town is quiet. There's time for a quick jaunt south the Italian Chapel – a small masterpiece fashioned by Italian prisoners of war, who were in Orkney to built the Churchill Barriers connecting the mainland to the southern islands.  Back in Kirkwall we enjoy a wonderful dinner and a wee drink at the Orkney Hotel.
In the dimmer sim we board the Northlink ferry and sail on to Shetland. Happy Summer Solstice!