No island today. We are on the move from the Western to the Northern Isles of Scotland – from Ullapool to Wick. Slowly we are leaving the calm Gaelic twilight and approaching Northern dynamism. There is no shortage of sandy beaches though.
First we head south to an oasis in the ruggedness: Inverewe Gardens lovingly managed by the National Trust of Scotland. Every time I visit I see something new.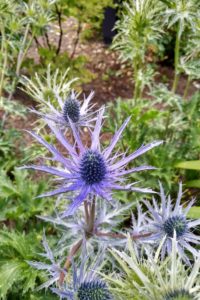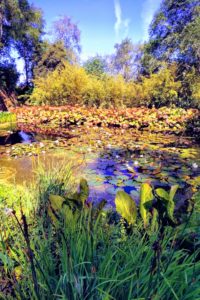 From colourful plants to sculpted rocks – shaped over millennia by fire, ice and sheer force. Knockan Crag Geopark sheds some light on the forces at work.
At Skiag Bridge we enter Mackay Country and continue our coastal journey north to Durness, where we start heading east and stop for a walk at Smoo Cave, displaying a spectacular waterfall today.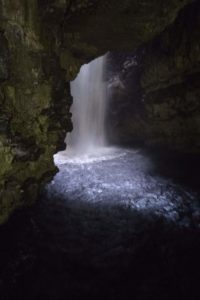 A few years years ago this route acquired a new name 'North Coast 500' – referring t0 the just over 500 miles loop around the northern cost of Scotland from Inverness to Ullapool, Durness to Wick and along the east coast back to Inverness (or the other way round). A lot of the route we are travelling along is made up of single-track roads. The area is sparsely populated and an ideal destination for a longer family holiday. Our tour only recently gave in to the marketing and included NC500 into the itinerary. We spent over 6 hours in the coach soaking up amazing views and stories. Now we are looking forward to our dinner at the hotel. Our last night on dry land. For the next two nights the Northlink Ferry will be our home.