The first Scottish island we visit seems to have it all. Arran, located in the Firth of Clyde, about one hour's drive from Glasgow, is known as 'Scotland in miniature'.  The bean-shaped island stretches across the geological Highland Boundary fault. The northern part of the peaky island is located in the Highlands, whilst the lush southern part has lowland flair.
It was the very first Scottish island I ever visited. Easter 1991 – a dear friend had suggested a quiet cycle round the island. Little did we know that we would be lapped by a biker's gathering in regular intervals. A lot has changed since and I never would I have dreamt of bringing coachloads of visitors to Arran on day trips from Glasgow. Of course – not at the moment.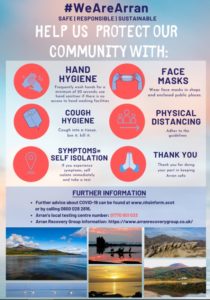 Last Sunday's paper carried an article entitled 'mixed emotions on Arran over welcoming back visitors'. This seems to sum up the mood in many rural and fragile areas. The article goes on to say that it is about 'finding that balance between keeping people safe and inviting visitors to the islands.' 
So, if you go, go with care:
remember to wear facemasks on public transport – scotrail has some restrictions at the moment
CalMac ferry capacity is still limited – check the status: Ardrossan – Brodick
Once you are there check what is open:
But we can also support Arran by enjoying the 'Taste of Arran'. Did I say Arran seems to have it all: Arran Brewery, two distilleries; Arran Cheese and to set the ambience Arran Aromatics.
I admire the Arran community. A few years ago we were paralysed by the 'beast from the east' – masses of snow during the lambing season. Scotland stood still. The media covered Arran's undaunted island spirit and the next year at the Scottish Tourism Alliance conference our dynamic colleagues were back in full strength flying the flag for Arran even higher. The Clyde is our strong, industrial river and Arran – so it seems – is made of strong stuff, too. So, let's listen to the community. They know what they are doing and we need to help protect Arran's community. Check before you travel – VisitArran
Tomorrow we will go to Islay, the Queen of the Hebrides – another island boasting world-famous produce. So if we can't go there physically, we'll raise a glass of Islay Whisky.
Remember RavingScotland is good to go and ready to go for private walking tours in Glasgow. Group sizes depend on current government guidance. https://www.gov.scot/coronavirus-covid-19/
Get in touch – socially distanced – E-mail me at viola@ravingscotland.co.uk and let's get talking.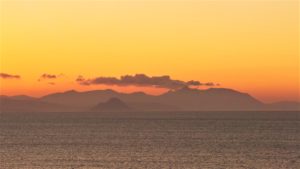 Here a little (re)treat for those of you, who read to the end: Holy Isle – Centre for World Peace and Health