The island dream we have been following over the last 10 days is based on a tour I have been guiding for a number of years. It is an absolute pleasure. Like everything the tour did change, too, reflecting how the industry as a whole developed  over time in Scotland. Initially we stayed overnight on most of the islands we visited. So our first day would start in Edinburgh and end on the Isle of Mull, the second largest island of the Inner Hebrides. We would sail from Oban and spend just under one hour at sea, followed by seagulls and sometimes porpoises.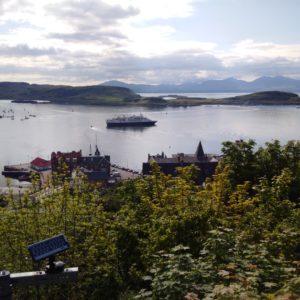 The next day would be spent entirely on islands – on majestic Mull and inspirational Iona. We would see bird watchers hoping to see eagles, would be surprised by stags breaking through the undergrowth and stare in amazement at wide, open views. A one-hour's drive from the ferry terminal at Craignure to the south-west tip of Mull and so much variety.
We arrive in Fionnphort and take the pedestrian ferry over to the Isle of Iona, which has its very own calm, peaceful atmosphere. Perhaps this is due to its location at the western edge of Scotland or its long association with travellers, pilgrims and religious communities. The Irish Saint Columba arrived here in the 6th century to set up his missionary base to Christianise what was to become Scotland. Many more waves of pilgrims, artists and … raiders sought out the island. Iona Abbey still tells the story.
Let's enjoy Iona's soft light.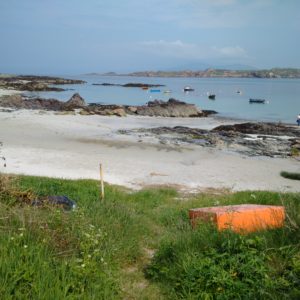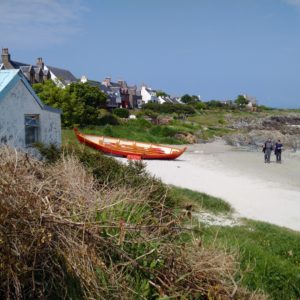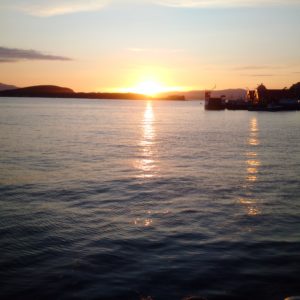 As the sun sets of the Isle of Mull our island dream comes to an end – for now.
I was booked to take 4 tours to the islands this year. Only yesterday I found out that even the last planned tour in August had to be cancelled – safety first, for all concerned. However, if we can't go outside, we will go inside and travel in thought and memories. So join me again, for the next virtual journey starting on 12 July.